Home
Details

Hits: 39949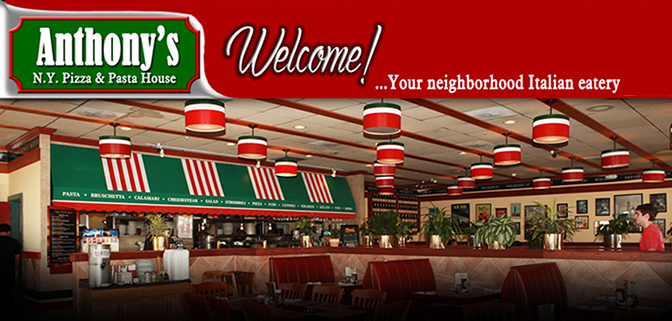 ABOUT US:
Anthonys NY Pizza and Pasta House has been dedicated to the creation of some of the best Italian food around for over twenty years. We strive to create a clean and family friendly setting that, along with our friendly and professional customer service and delicious food prepared with the freshest ingredients, will keep you coming back for more! From Pizza to Pasta to Salads and More, there is something for everyone to enjoy! Link here
OUR MISSION:
To provide authentic, high quality Italian meals prepared with fresh ingredients at a fair price in a comfortable and inviting atmosphere, along with friendly customer service.
Our culinary values and standards:
We believe that serving our guests is our highest priority. We will create a wonderful dining experience for our guests each and every time they visit our restaurant. We want our guests to see Anthony's pizza and pasta as a warm and welcoming place. We will serve the highest quality food and the freshest that is available locally. We will provide a safe and hygienic environment for our guests and our work team.